Evaluation of firms
Evaluations of the users (reviews) help with choice of the right firm and they serve as firm information delivered by the service users – it is possible to insert them through the service firmy.cz, mapy.cz as well as by means of search system of Seznam. Each firm has a possibility to enter the evaluation from its admin. Just the checked-in users may insert firm evaluation, namely just once for each firm. If the same checked-in user registered himself for a firm repeatedly, he may modify his evaluation but he cannot add another one.
In connection with tariff (reference here), a client has, as well, possibility to acquire marking "Recommended firm"; he may thus increase trustworthiness of his firm in the eyes of the clients. A client may acquire this marking in case that his rate of evaluation exceeds 70 %, that his profile is permanently current and that he has filled in all the substantial data about the firm.
"Recommended firm" is the firm which meets the following criteria:
updated profile (as minimum – data was updated once per 6 months);
information in profile – score more than 70 %;
profile with ranking more than 70 %.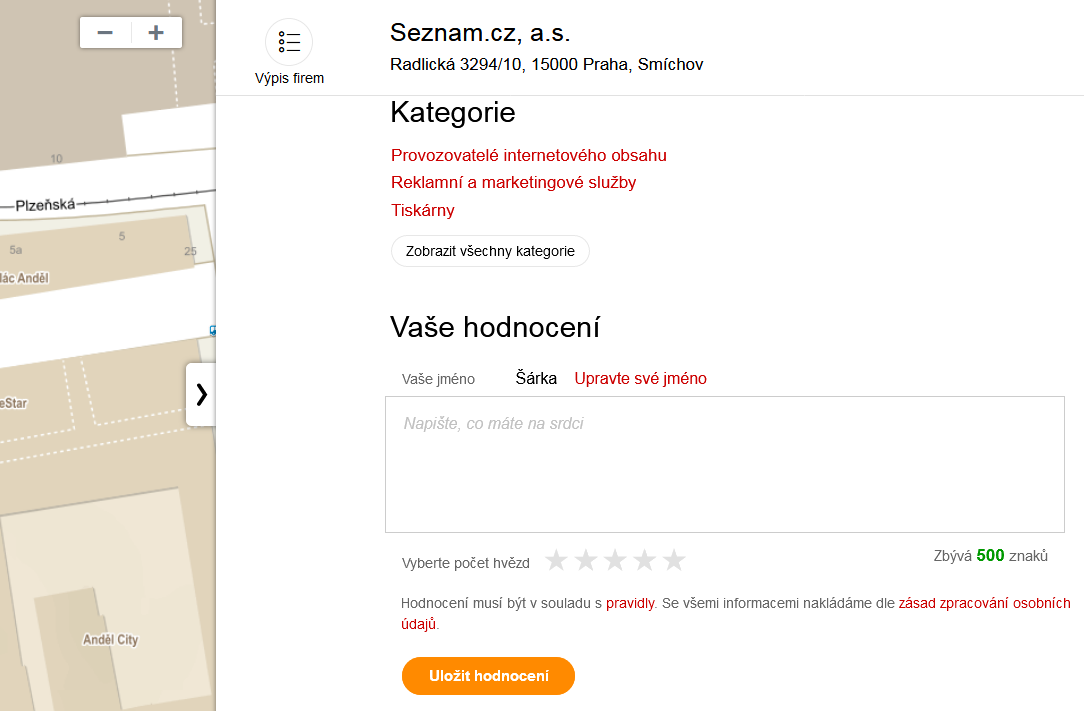 Inserting evaluation on Firmy.cz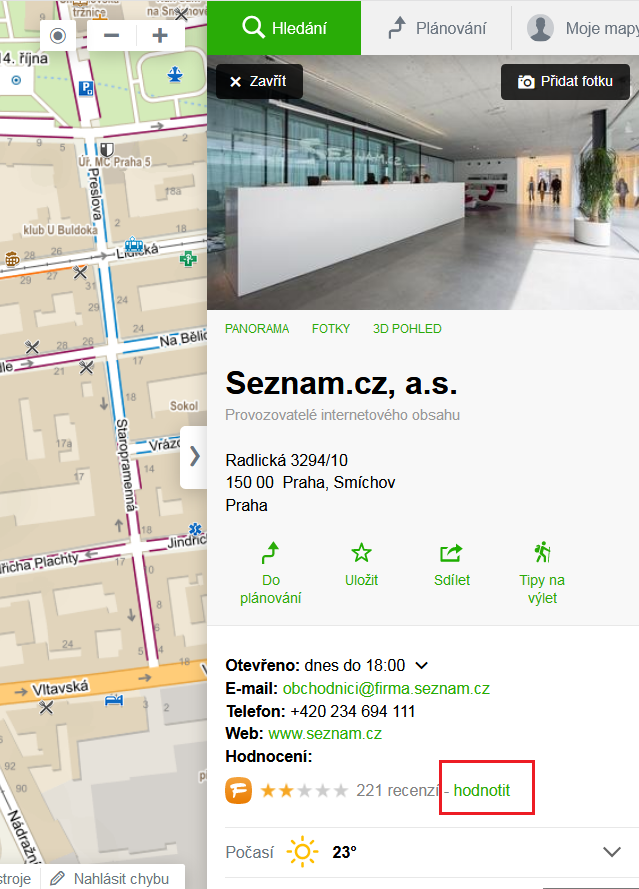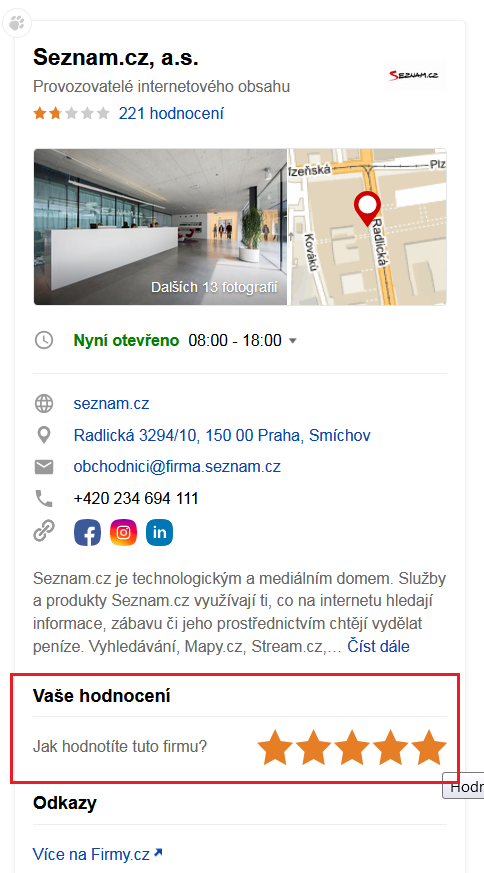 Evaluation in firm profile on Mapy.cz
Possibility to insert firm evaluation in search results on Seznam.cz, in the firm card.

Total evaluation of the firm is calculated as follows: if a firm has more than 5 reviews in the preceding 30 days, we calculate average value of these five reviews. If there are less than 5 reviews, we calculate average from all the reviews shown with the firm. Evaluation is shown in by means of stars in the number of 1–5 in the survey of firms.
Detailed survey of different user evaluations is shown in the concrete detail of the firm. With firm profiles of e-shops also such reviews are shown, which the e-shop concerned had acquired from verified customers on Zboží.cz. The reviews are included – ordered from the point of view of time – among the other reviews, which that e-shop had acquired on Firmy.cz or in searching on Seznam. A review on Zboží.cz shall be included into average evaluation and thus it may influence number of stars which a profile has visible in details, in firm card and, as well, in the visit card on Firmy.cz and in search.
Rules for evaluation
To secure evaluation quality on Firmy.cz we preserve the right to delete a contribution, if:
this review violates, in any way, legal rules of the Czech Republic or is contradictory to good manners;
makes public further data upon identity of others, who evaluate as well (e.g. phone, employment, any other information which might constitute; personal data in the sense of the valid legal regulation etc.);
if the appraiser passes himself off as another person;
if there exists a proven continuity between the evaluated firm and the appraiser (e.g. firm and its employee, CEO etc.);
includes URL-references, an e-mail address or a phone number;
contains evaluation and data concerning another firm;
contains excess of punctuation and obscure information;
does not contain data upon performing work, services or contact with firm;
in a disputable case, submission of an invoice or of another document on performing work or service may be required;
time between experience with the firm or purchase date of the product and writing evaluation is longer than half a year, or, as the case may be, the time until end of warranty, two years by default;
review includes more than permitted number of 500 signs;
the evaluation is performed between employer and employee (e.g. data on running of the firm, payment moral, relations between two parts, etc….); in fact, it is not evaluation of services provided by the firm but of its functioning;
review, up to 50%, does not include verbal expression;
review includes insults (such as thief, fraud, bastards);
review includes evaluation between deliverer and customer (not the end customer of provided services or products).
Processing reviews:
reviews are subject to control; during working days, they may be removed within 24 hours;
control includes also IP address of each sent-off review;
the firm concerned preserves the right to extend this period in case of extraordinary events;
if the data is unambiguous – the evaluated subject may challenge the appraiser to precise information (e.g. to state date of service, contact, name of appraiser etc.…), if the evaluated subject reacts to the review within 90 after the review had been published, if there are ambiguities in case of client's request of hiding the review until the moment of clarifying the facts stated in the review;
the appraiser shall be informed about temporary hiding by e-mail. If the appraiser does not react upon challenge to precise information within 30 days, his review will be deleted forever;
in his reaction, an appraiser may indicate his contact e-mail to enable solution of inconsistencies in the evaluation. We do not publish phone numbers of appraisers.

User is liable for damage caused by untruthful, damaging or deceptive firm evaluation.